How to Improve Interpersonal and Organizational Communication
Category : [2012]
|
Writer : 관리자
|
Date :
2012.06.08
|
Hit : 46,410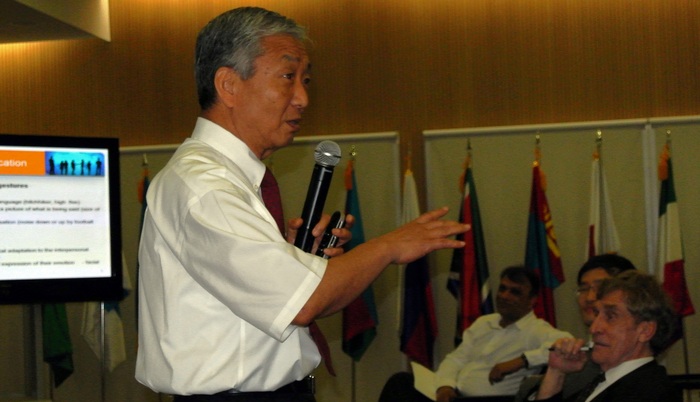 SolBridge's highly successful lecture series offers students and faculty a wide range of topics presented by business leaders, scholars, and other distinguished speakers. Some offer insights into today's ever changing business world; others inspire students to make the right career choices once they leave SolBridge.
---
Some even offer practical advice or methodology, which have many practical applications—from the classroom to the boardroom.
Recently, SolBridge students and faculty were treated to an inspirational Special Lecture by distinguished professor and Dean of the College of Business at Marshall University, Dr. Chong W. Kim who talked on "How to Improve Interpersonal and Organizational Communication." During his hour-long lecture and Q&A session, Dr. Kim inspired the capacity crowd with his insightful overview of interpersonal and organizational communication and offered suggestions for how one can improve these skills.
First, he looked at the communication process—including verbal and non-verbal communication—and from there, moved on to the kinds of barriers which can inhibit communication as well as cross cultural communication. What was most impressive about Dr. Kim was his speaking style and the way that he connected with the audience as he described the communication process.
Next, Dr. Kim talked about how one can improve their communication skills, specifically, how to improve one's communication in an organization. He shared with the audience Keith Davis' Ten Commandments For Effective Listening, which includes, putting the talker at ease, making he/she feel that he/she is free to talk, showing the speaker that you want to listen, removing distractions, empathizing what the speaker, and being patient. He also talked about the importance of feedback methods and how they can be used to improve organizational communication.
Finally, Dr. Kim shared his philosophy for success and happiness with the audience. He pointed out that at any given time we all have multiple roles and that we can be different kinds of people depending how we interact with others. He explained that there are generally three kinds of relationships: those which are necessary, those which are common, and those which are parasitic. The key to success, Kim suggested, is to focus on those relationships which are necessary, albeit those with family, friends, school, even one's country to truly be successful. By doing that, Kim said, reflecting on his own life, one can be successful and have a happy life.