Charm Lee "Charms" SolBridge Faculty and Students
Category : [2011]
|
Writer : 관리자
|
Date :
2011.12.21
|
Hit : 59,699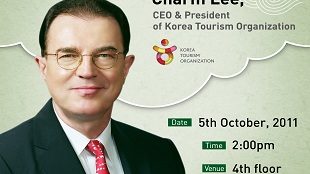 One of the biggest challenges many Asian societies are facing these days is the loss of culture and identity.
"It's the downside to economic development," said Charm Lee, President and CEO of the Korean Tourism Organization. "People don't take enough time to reflect. They don't have enough time to refresh their minds, souls, and bodies.
Lee, who has lived in Korea since 1978, "charmed" and inspired the SolBridge audience with his highly charged and enthusiastic presentation in which he showed how the growth of tourism culture provides a society with the opportunity in most cases, to discover its roots and values.
---
"It's the industry with the brightest future," Lee explained. "It reaches every area, whether it's gourmet, medical, or eco-tourism."
To be sure, the importance of tourism industry results in high contribution to economic development, not to mention an alternative industry for periods of growth without employment. Likewise, it is a high-tech industry with cutting-edge knowledge and technology, which are critical for tourism industries with the upside being that the tourism industry facilitates developing new IT, transportation, communication and other related technologies.
Nowhere is this better illustrated than the development of tourism culture in Korea. He pointed out that Korea has a lot of potential to develop its tourism industry and promote its vibrant and energetic culture. Whereas in the past, Korea's cultural strength might have been with stalwart cultural icons like hanboks and kimchi, Lee thinks it is much more.
"What is Korea's main attraction? Energy," Lee said. "There's enthusiastic, emotional energy everywhere in Korean culture. The energy flows through you."
This emotional energy manifests itself not only in the warmth of Korean people but it is also evident in Korean culture's internal qualities which makes Korea interesting. One way to tap into this culture energy is through Korean tourism supporters, a voluntary network of people who wish to contribute and invigorate the development of tourism culture. According to Lee, by visiting local communities and getting to know the historical and natural resources, supporters will help develop the tourism industry in local areas.
"It's not only important to inspire Koreans to understand the potential that tourism culture has, but also to change their minds and invest in it," Lee added.
— Jeffrey Miller