How to Stay Competitive in Today's Complex World
Category : [2012]
|
Writer : 관리자
|
Date :
2012.11.04
|
Hit : 68,931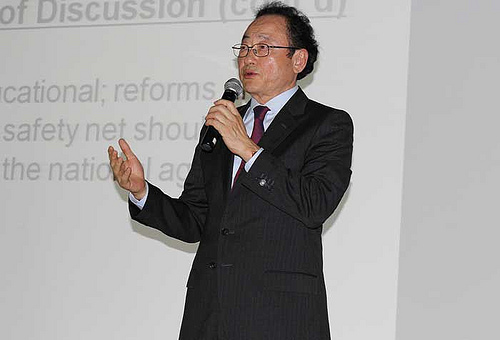 It goes without saying that in today's ever-changing business world, the need to stay sharp and competitive is more important than ever before. However, to stay competitive takes more than a four or six-year education according to leading Korean economist Dr. Il SaKong.
---
"Learning should be a lifelong business," SaKong said during the second Wiseman Lecture in late October. "Four years of school and graduate school is not enough to help you stay competitive."
For almost an hour, Dr. SaKong talked about how one needs to stay competitive in order to survive in today's complex world. SaKong, the founder and Chairman and CEO of the Institute for Global economics (IGE) has served in numerous government and official posts, including nearly ten years, from 1973-1982 at the Korea Development Institute (KDI) which is the leading economic think tank for the Korean government. More recently, SaKong was the Chairman of the Presidential Committee for the G20 Summit in Seoul in 2010.
One of the things that SaKong stressed in his lecture was that these days the world has become more interdependent and interconnected, and as such, in order to stay on top of things, one has to stay aware of what is happening around the world. He referred specifically to the situation in Greece and how the entire world is affected by it.
"You have to know what is happening. You have to have an international perspective study," he said. "You have to read more than others every day. You should make a habit of reading the Wall Street Journal, the Financial Times and the International Herald Tribune."
If you do this, SaKong added, you will be competitive.
In addition to being well-informed, SaKong also stressed the importance of being innovative—a term heard a lot in the classrooms at SolBridge. To be sure, whether one is looking at being innovative from an individual point of view or even at the national level, innovation is key to staying competitive.
"As a nation how can stay competitive national policy level unless you provide business friendly environments jobs will leave," he said. "At the national level, the rapid globalization also calls for continuous structural adjustments and institutional reforms."
He also talked about how lifelong learning and continuous training for workers who have either become displaced or are looking for work the first time has become even more critical in today's ever-changing world.