Orientation Week at SolBridge International School of Business
Category : [2012]
|
Writer : 관리자
|
Date :
2012.02.22
|
Hit : 77,498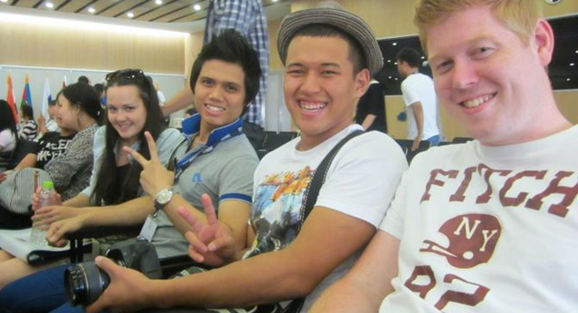 With the arrival of a new semester and before the classes have commenced, SolBridge International School of Business is alive with activities. New students along with many seniors, full-time students and exchange students; all will be participating in the Team-building Orientation/Immersion week of activities, scheduled to commence during the last week of February 2012.
---
University can be a challenging experience, and being an international student abroad for the first time can add to this challenge. The SolBridge family has designed the Team-building Orientation/Immersion program to help each student settle in quickly and effectively. Many of the activities are designed to help the student be organized with day-to-day administration such as setting up a bank account, learning about medical insurance, knowing how to use public transport, living in the dormitories and an introduction to Korean history, culture, etiquette and expressions.
Other activities allow the students to explore the local area for activities and social life, as well as building teams through group exercises where multiple languages can be heard, amongst laughter and hilarity. There is also a lot of fun - check out Team Spirit Building and the Survival game in the link below. Led by the popular faculty member, Dr. Dawn Davies, many of these activities can include rap, dance, and crazy unexpected fun stuff – even a piano solo! Click Here
All of the participants of this unforgettable week remember these first days of their life in Daejeon and SolBridge with good feelings. Here is a video from some of the Indonesia students and their comments about their experience during Orientation week: Click Here
Experienced students are designated as team leaders, and take a leadership role in welcoming the new students. Their testimonials are below:
Chloe Lee: "Looking back on the times, it was a very tiring week filled with so many activities. Maybe I'm thinking this way because there was a pressure inside of me to be there with them every single moment. As a matter of fact, I found it to be much more burdensome than it used to be. Thanks to this Peer Group Program, however, I believe I have become more mature and gained a sense of leadership from my heart. Although I have already mentioned that it was a whole very demanding week, I have to admit that the program has been really improved and advanced. The programs were very organized and helpful that I could find most of the newcomers satisfied with their orientation and returning students enjoying the team building course. The most interesting part of the orientation was listening to many different professors for course introduction and career development. My studious group members suddenly became very active, asking so many questions. Their eyes shined with a joy of learning. I was very surprised, as well as impressed by their passion towards their study and future. I wish SolBridge could open more opportunities like this to returning students as well."
Aleksandra Vukolova: "As for me that brought understanding of how it feels to lead people who actually know nothing about the place you know everything about. I believe the biggest part of this first impression about Solbridge will stay with them forever. That's why I felt huge responsibility on me to make this impression solidly good. Also, that was interesting to compare your-self being on the both sides: as recent freshman and as a new freshman's leader."
Orientation week is a great experience for overcoming first time nerves, and finding new friends from diverse backgrounds, countries and nationalities. The universal message from everyone at SolBridge, to everyone coming to SolBridge or arriving for the first time is "Welcome and We Love SolBridge". Click Here