Samsung Electronics and KB Financial Group present business cases to SolBridge students
Category : [2017]
|
Writer : Sharon Nabwire
|
Date :
2017.09.11
|
Hit : 22,808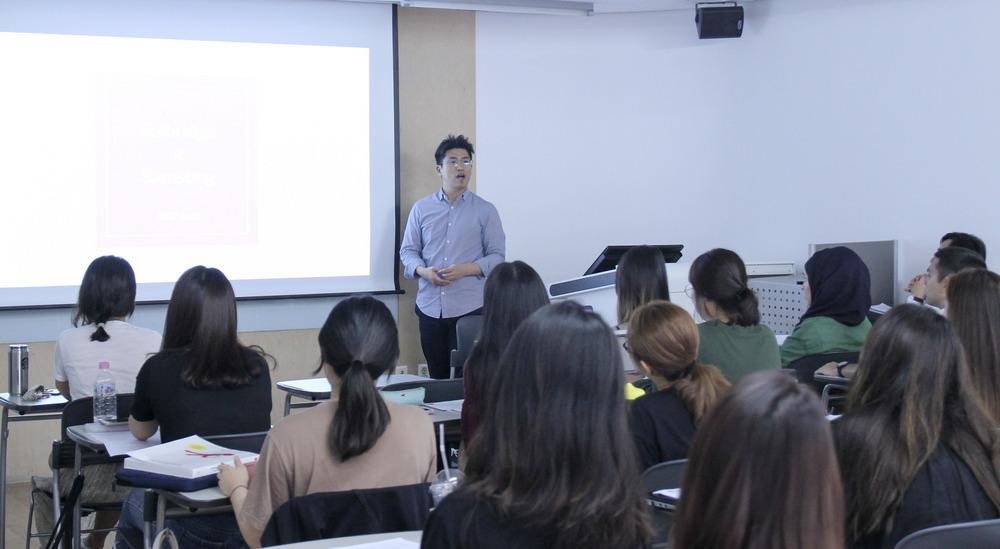 Last week, two representatives from Samsung Electronics and KB Financial Group visited SolBridge to present their business cases to SolBridge students in the BUS371 Business Consulting Practice class, taught by Prof. Byungik Jung. These two clients gave students cases at their institution for possible solutions.
The purpose of these cases is for students to acquire real business consulting experience by solving the client's issues and their project needs. Through these cases, students get to practice the fundamental methodologies and frameworks that they have acquired in other business courses mainly through Business Consulting skills. Besides, these cases help students develop a logical approach and creative ability to increase their "Creative Management Mind", one of the five mission-based goals of SolBridge.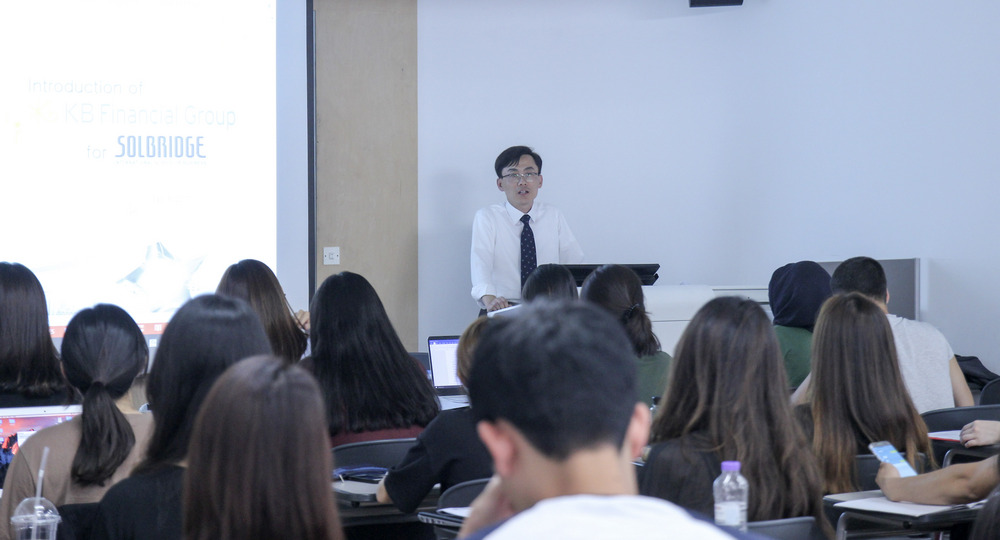 Samsung Electronics presented three cases including:
1 The creation of a success story for the Samsung Vacuum Cleaner. The team will have to form positioning strategies to maximize the products' online presence, improve sales and identify new markets.
2 The development of short-term digital marketing strategies to promote Samsung products to the aging generation both in Korea and worldwide.
3. The setting up of a new business model preferably connected to the current Samsung product line up.
KB presented five case scenarios including;
1. An analysis of the implications of retail customers' culture-based economic behavior of any two countries in Southeast Asia (Vietnam, Indonesia, Philippines, etc.), i.e., why the difference in credit culture occurs from the point of religion, financial needs or financial infrastructure.
2. A competitive analysis of East Asian - Japanese and Chinese banks' business strategies in the Southeast Asia and making recommendations to Korean banks
3. Competitive analysis among top-tier micro-finance companies within each Southeast Asian country.
4. A case analysis of a foreign financial institution that has successfully penetrated the local markets in Southeast Asia.
5. A Competitive analysis of operation of credit bureau (CB) and quality of CB's information among Southeast Asian countries
During the semester, students will work in teams and develop solutions to the presented problems above in consultation with Prof. Byungik Jung and clients. At the end of the semester, students will present their findings to the top management of the different companies.