BBA Valedictorian Speech by Soyeong Kang (Spring 2017 Graduation)
Category : [2017]
|
Writer : Soyeong Kang
|
Date :
2017.06.16
|
Hit : 24,007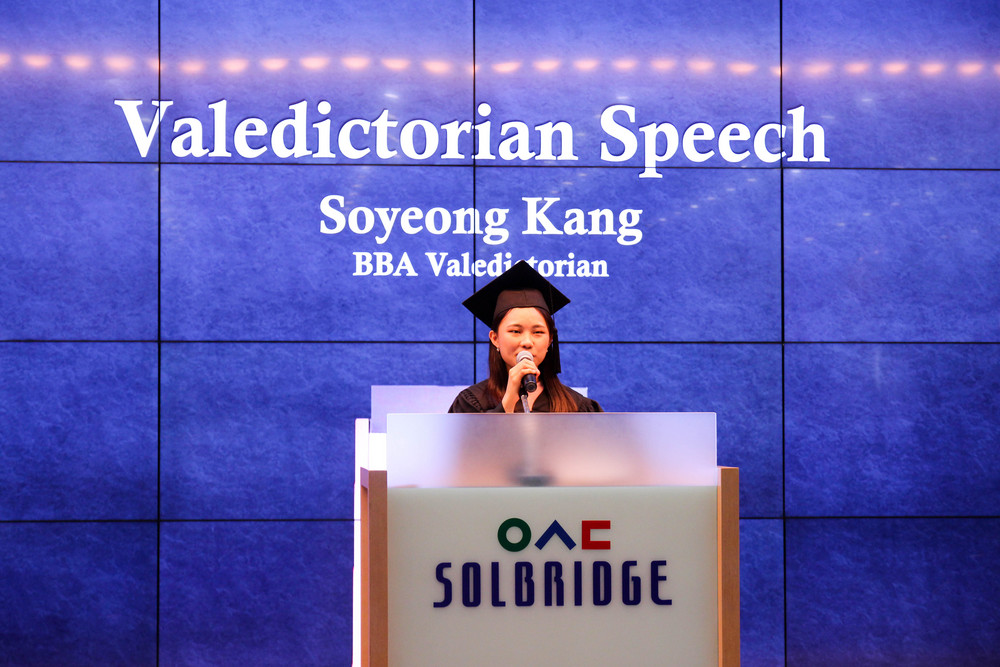 Good morning everyone!
I would like to welcome all faculty, alumni, friends, and family to this Spring 2017 Commencement Ceremony. Looking back at our freshmen year, it seems like it was just yesterday. The time we have spent in SolBridge has gone by so fast, yet all this while many things changed, and many things happened. Individually, and as a group, we have certainly changed; we have grown, acquired confidence, and have started to see the world in different ways. At this time, I would like to briefly talk about two things which I see differently now that I have completed my undergraduate degree.
To begin with, I have much greater appreciation for the people around me. You never know when, where, or how you will meet people who will become important in your life. I think this is true for most university students, but in particular, this is a strength of SolBridge. The international community of SolBridge has allowed me to meet so many amazing people; people who I like and respect so much. Many of them have become my dear friends, and I am so thankful for their presence in my life. They affect me in so many good ways, and I have become a better person because of them. I want to extend a heartfelt thank you to all of you who have made my life so rich and rewarding during these past years, and I hope you take time today to extend your thanks and appreciation for those important people in your life. Today, among many things, is a day of appreciation and recognition.
Secondly, I have learned the value of challenging myself to do new things. Here I do not mean only studying, participating in school events or competitions. I also mean traveling outside the city limits, engaging in new and exciting leisure activities, and even daring to find and accept love from another. From such experiences, you will learn and experience things that will never be forgotten. Just recently I bungee jumped from the height of a 22 story building. The staff doubted that I would jump, they took one look at me and commented that I would likely have to climb back down the ladder. But I surprised them and myself by jumping. If you challenge yourself, I am sure you will find the courage within yourself to follow through.
Appreciating the people around us and continuously challenging ourselves are the two ideas I would like to leave you with today. These two things are the life lessons that I learned these past four years. Through the people in our lives and the challenges we face, we will continue to grow and change far beyond our university years. With that said, I would like to congratulate you all on your graduation achievement personally. You have done well and should be proud. I know I am proud to be counted among you here today. Thank you!