SolBridge Hosts 2013 NEAO Debate Tournament
Category : [2013]
|
Writer : 관리자
|
Date :
2013.11.22
|
Hit : 62,952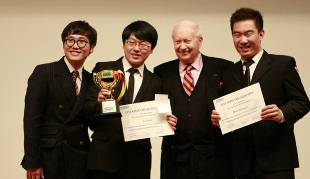 From November 14-17, a debating tournament that involved some 330 students from Korea, Japan, China, Hong Kong, Macau, Taiwan, and Malaysia was held on the SolBridge campus. The NEAO (North East Asian Open) Debate is one of the most prestigious debating events in the region and the debating circuit.
---
During the debate, the SolBridge Debate Society (SDS) fielded 6 teams in this highly prestigious event: Min-jae Kim/Jae-dong Jeong (SDS 1), Ji-won Kwang/Harah Jeon (SDS 2), Young-joon Kim/Kang-san Kim (SDS 3), My Nguyen/Simon Shin (SDS 4), Mirella Santos de Oliveira/Min-jeong Kim (SDS 5), Kapbi Han/Woo-mi Wang (SDS 6). At the end of seven preliminary rounds, SDS 1 and SDS 2 were among the 16 teams advancing to the elimination rounds.
In a highly competitive quarterfinal round, SDS 2 fell to top-seeded Underwood 1 (Yonsei University) and Swinburne 1 (Malaysia). However, SDS 1 defeated two teams from Korea University to advance to the Semifinals, where they defeated Sogang University 1 and Swinburne 1 to reach the Grand Final. In a dramatic Grand Final featuring SDS 1, Tokyo University 1, Underwood 1, and University of Macau 1, the debaters argued passionate about whether Northeast Asia should embrace Japan's decision to amend its constitution to have a standing army. Ironically, the two Korean teams (including SDS 1) were assigned to propose the motion while the teams from Japan and Macau were assigned to oppose.
In the end, after an excellent debate and extended deliberation by adjudicators, Tokyo University 1 were crowned Champions of SolBridge NEAO 2013. While SDS was not able to bring home another championship trophy, it was an honor to have SolBridge represented in the Grand Final and be one of the very few schools to field two teams in the elimination rounds. This result helped cement SolBridge as a powerhouse in the Northeast Asian debating community.
Furthermore, the hospitality shown by our students and the passion and joy with which the volunteers ran the tournament no doubt raised the SolBridge brand in the mind of all students attended. Many participants expressed how impressed they were with our facilities as well as the diversity and talent level of our students.
While we were extremely thankful for the tremendous support from our school administration and faculty, on the ground, it was a fully student-run event, with our students Yoo-jin Choi and Eun-ah So working as co-conveners and our recent graduate Ju-seung Yi as the Chief Adjudicator. Our students, including the organization committee (Jae Kyeum Kim, Hee-seung Lee, Yae-seul Yang, My Nguyen, So-hyun Kim, Byung-hee Choi) and over 40 volunteers, negotiated with hotels and caterers to provide room and board, escorted participants from the airport, provided administrative assistance to competitions, provided performances (cheer, dance, violin/piano, traditional Korean music, taekwondo), and generally proved to be excellent hosts to all the participants.
The SolBridge NEAO 2013 was a wonderful opportunity for bridge-building with top students from all over Asia and will be a source of motivation for our students to improve their own abilities as scholars and debaters, to become the Next Generation of Asian Thought Leaders that we all envision them to be.
Original text by Joshua Park