Fall 2012 BBA Valedictorian Speech by Hong Mai Bui
Category : [2012]
|
Writer : 관리자
|
Date :
2013.01.04
|
Hit : 74,347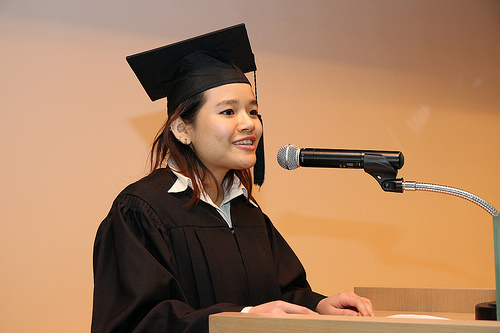 "Dear Chairman Kim, President Endicott, Dean Jun, faculty, friends, families, and fellow graduates. It's my honor to stand here as the BBA valedictorian for the Fall 2012 graduating class.
My fellow graduates, I know how you feel now. Please be patient; my speech will be short.
Congratulations! Today is our greatest day during our 4 years in SolBridge. Today is the day of gratitude, to all the people that supported us until this time so that we could sit here with our own gowns and caps.
---
When leaving this school, I know that there is one professor I can always ask for advice, the one I'd like to give my special thanks to, that's Dr. Zhang Wenqing. Even though he isn't my mentor, to me, he really is. To my finance professors: Dr. Choi Sun-ho, Dr. Prasad, and Dr. Hsing, thanks for giving me a passion for finance; I enjoyed your jokes and your classes a lot. Three years ago, I couldn't make up my mind which way to go, which major to study, but now I'm standing here with a clear vision and the love for finance. I will also never forget the advice of Professor Grimson and Professor Oleson when we participated in the case competition. Professor Daniel Kim, Professor Travis Christensen, you are very kind hearted. Thanks for teaching us.
No wonder that you learn more when you work than when you study. Thank you, Ms. Bang. With your support, I've had the opportunity to experience part time jobs in SolBridge as a cafeteria assistant, a librarian assistant, and a gym clerk. All of my bosses were very nice; I learned from them the attitude at work, especially from the strictest one—Mrs. Kowtha. And Mrs. Park, it has been so nice to work with you, I will always remember your warm smile.
And my dear friends, I cannot imagine my life in Korea without you guys. To my good friends that graduated in previous semesters, Sandy and Sunny, I wish you were here today. Jenny, thanks for coming from Seoul just to attend my graduation ceremony, and Holly, for being my craziest roommate ever. Today, I'm standing here with this gown and cap, and also with mixed feelings. Every memory is now playing continuously in my mind like a video. We had fun times. There are times we ate a lot, there are times we shared only one bowl of rice together. There are times we drank coffee and stayed up all night to do the case studies, there are times we also stayed up all night, but to celebrate after exams or talk about this complicated life. Whenever I say I don't feel good today, you guys are there to say노래방에 가자. Let me share with you one of my experiences. If you eat chicken, you must drink맥주; if it's불고기, you must drink소주, and if it's닭갈비, you should try막걸리. And I like 김치a lot, I even ask mom to prepare김치 at home. You won't believe this, but I can finish 10kgs of 김치within 2 months. Thanks to the international environment in SolBridge, I could make friends with people around the world. Guo Guo, you are the funniest friend I've ever known, 10 years, 20 years from now, I will still remember your story, "Don't make me laugh, ho, ho, ho." Manli, you are my best Chinese teacher ever. Hajin, I will always admire you. Thanks for your instruction, now I know how to play Baduk.
Last but not least, I'd like to send my gratitude and respect to my parents, who could not come today. Mom and Dad, thanks for always supporting me, believing in my every decision. You trust me even when I don't trust myself. You are my motivation to stay up a little more at night to finish all the homework.
Once again, congratulations my fellows! Today, I'm not going to say goodbye to you, because I know that we will meet again, as friends, or as business partners in the future. I wish you all the best, success and happiness. And the last thing, please remember: "Never give up". You might fail and get rejected many times in your life, but never give up. Stand up again and stick to your vision, I'm sure nothing can defeat you. Congratulations, all of us!"